WALCOTT DEDICATES ARSENAL'S WIN OVER MAN UTD TO WENGER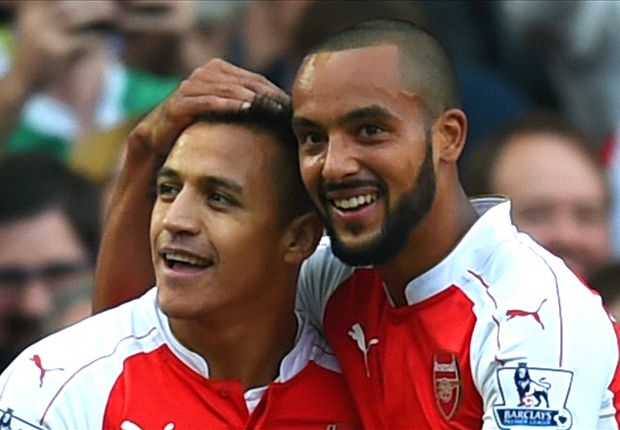 The Frenchman was criticised after Tuesday's
defeat to Olympiacos in the Champions League
but the forward insists Sunday's showing "was
the Arsenal of old"
Theo Walcott has dedicated Arsenal's 3-0
victory over Manchester United to Arsene
Wenger and believes the team's performance
was the best he's ever been involved in.
The Gunners raced into a three-goal lead inside
the opening 20 minutes as Alexis Sanchez
struck twice, while Mesut Ozil netted his
second of the season.
Wenger faced criticism following his side's 3-2
defeat to Olympiacos earlier in the week but
Walcott has described the display against
United as "the Arsenal of old".
"You could sense the desire was there we need
to show that in more games. But our Premier
League record is actually very good," Walcott
told Sky Sports.
"Everyone is beating everyone else at the
moment. But we're where we are want to be
just about but we want to be dominant at home
against big teams and we should be playing like
that every week. There will be a lot of aching
bodies tonight but so it should be and that was
for the manager.
"We've spoken to each other on our own we
wanted to do this for the fans. Sometimes we
have great performances but don't get the
results you need but today that first 25 minutes
was unbelievable. Nobody would've been able to
cope with us. The best football I've ever been
involved in. It was the Arsenal of old."
Related Article
Comment
.....................
Please
LOGIN
or
REGISTER
To Gain Full Access To This Article