Hazard: I want to score more goals for Chelsea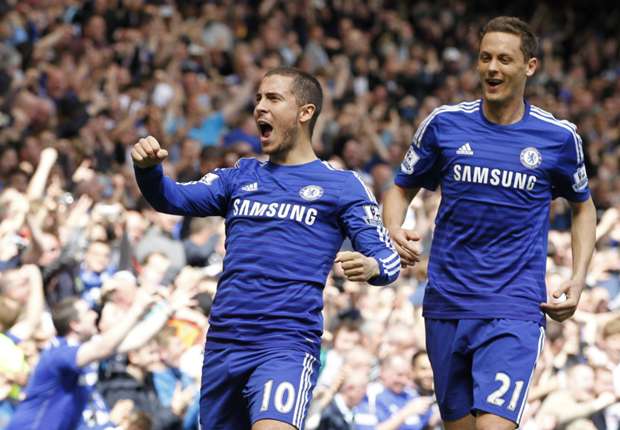 The Blues star believes he can do even better next year by becoming a more prolific goalscorer, and is desperate to taste further success at the club Chelsea midfielder and PFA Player of the Year Eden Hazard has revealed his desire to improve even further for the Blues next season, stating his aim to "score more goals" for the club.
The Belgium international found the net 19 times as the Blues won the Premier League and Capital One Cup, though he believes he can be even more prolific in front of goal moving forward.
And the former Lille man thinks 25 goals in the 2015-16 campaign is a realistic target as Jose Mourinho's side look to replicate their success next season.
"I want to score more goals," he told the club's official website.
"I scored 19 this season, the season before I scored 16, so 19 is good, especially as I'm not a pure striker, I'm a winger."
"But the fans always want me to score. I work hard on that in training but it's not easy. It would be nice if I could maybe get 25 goals next season."
Despite a hugely impressive campaign in which
Mourinho's men clinched two titles, Hazard was insistent that the Blues can do even better next season, particularly in the Champions League.
"We need to keep the two trophies we won this season and hopefully add another cup, it would be good to win everything," he said.
"The only bad thing about this season was the PSG game; when you are playing with 11 men against ten you shouldn't lose. Even though we didn't lose the game, 2-2 wasn't good enough, so it would be good to go far in the Champions League.
"It will be a big challenge to retain the Premier League next season. Every team wants to beat the champions.
They will come to Stamford Bridge and try to do whatever they can to beat us, so we have to be ready."
Hazard is currently on international duty with Belgium, as the Red Devils prepare to face Wales in Cardiff on Friday in a crucial Euro 2016 qualifier.
Related Article
Comment
.....................
Please
LOGIN
or
REGISTER
To Gain Full Access To This Article